Industrial Panel Building
Discover how to make significant time savings
Panel builders operate in an exceedingly tough competitive market, which means that reducing time spent on designs and excluding errors and reworks - in other words - keeping costs down - is of paramount importance. But, how can you meet this challenge? If these are just a few of your issues there is a solution: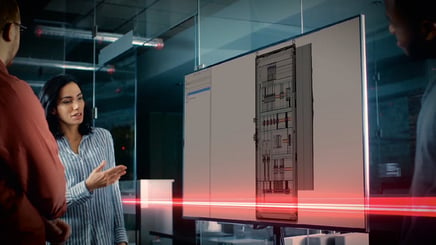 Increasing price pressure
Shortage of skilled labour
Pressure to reduce delivery times
Ineffective workflows and quality issues
Requirement to reduce scrap
How to increase productivity
How to simplify the production of panels dramatically


The Panel Building Automation Matrix (PAM), which has been developed by EPLAN and Rittal, uses insight from more than 150 panel builders to help you understand your processes by analysing your business, identifying challenges and creating opportunities for improvement. PAM is at the centre of the Smart Value Chain and uses a digital twin to connect the design and manufacturing of electrical control panels.
Discover our Value Chain: Linking EPLAN Engineering with Rittal Manufacturing Automation!
---
The power of the Digital Twin

Manufacturing electrical control panels has never been easier. By using a digital twin, the entire manufacturing process is simplified.

Coordinated software solutions, systems technology, machinery and services provide a unique competitive advantage in panel building and switchgear manufacturing.

Go from design to production, with a digital twin, a faithful representation of your cabinets and enclosures.

Click on the link below to find out more about the role of the Digital Twin within the Rittal-EPLAN Value Chain.

---
Panel Building Automation Matrix Assessment
EPLAN offers a free assessments to panel builders which aims to identify bottlenecks in design and manufacturing with the information we have collated from our customer study, we can advise on how you can save time, reduce scrap and simplify the production of panels dramatically. The free assessment includes: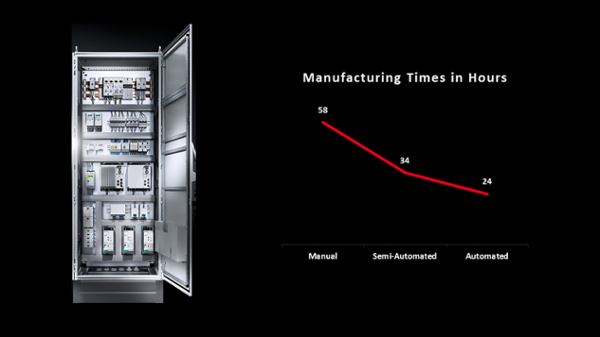 Business Assessment - we'll use an algorithm based on our benchmark to help our customers understand their operations by analysing their business and identifying challenges and opportunities. We'll also identify the areas in which there are bottlenecks, where there are losses which results in time & money lost and the possible optimisation potential for the different areas on the shop floor.

Saving Potential - we'll suggest ways in which to optimise your workflow and reveal the cost and time savings that can be expected.

Scope of improvement - we'll outline the deliverables of what is needed to implement the change successfully
Request a free EPLAN Assessment